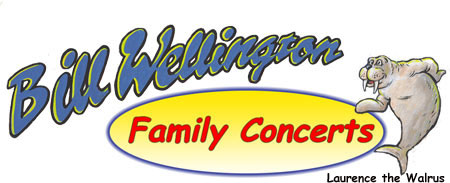 Bill Wellington's Radio WOOF family concerts are a celebration of family, folklore, and fun with music, song, and story. Bill's high-energy banjo, fiddle, and guitar playing are irresistible, and his zany antics make everyone laugh out loud. Whether in a school, library, or as part of a festival or concert series, Bill entertains young and old in a marvelous way.
When there are pre-schoolers and other very young children present (as in a library setting) Bill will start the show by introducing "Mr. Mouse." The "mouse" is really a bandana Bill has folded into mouse form while telling an introductory story. Mr. Mouse reappears throughout the show, much to the delight of all.
One of the most remarkable features of this program is the positive impact Bill's songs have on children. According to Booklist, Bill
"…relates to the world of children in a childlike way, giving listeners a fun
way to learn about behavior through wacky music and amusing lyrics."
Bill's sense of humor is also appealing to adults. Songs like "Gnarly Roadrash," "Grounded," "Stay Outta My Room," "Cafeteria Food," and "How Could We Live Without TV?" take a wry look at everyday life we can all relate to.
In one song, "Tell Me a Story," Bill gently reminds parents that children love to hear stories from Mom and Dad's childhood. In another song, "There are No More Dinosaurs," Bill states that, while the meanest dinosaur was Tyrannosaurus Rex, "the nicest one was Barney, who helped save PBS!"
Roses-are-red poems are a big hit at Bill Wellington's family concerts. Bill has been collecting these gems from children for years and they are hilarious. If the family concert is part of a One-Day-Wonder at your school, Bill will ask the students to write him roses-are-red poems during the daytime assembly, and he'll read selected poems at the evening concert.
Another feature of the One-Day-Wonder family concert is that Bill will be joined on stage by the "Woofers and the Tweeters," a group of ten kids selected by the school music teacher. These students will have met with Bill for a workshop during the day to prepare for their role in the evening show.
In every family concert Bill's storytelling brings to life tales that display humor and wisdom. His voices, sound effects, and dramatic presence are spellbinding, inviting listeners into a world of imagination. Whether telling "The Magic Fiddle," The Freedom Bird," or "Wicked John," Wellington shows why listening to a story is an experience that can't be matched by TV, video games or movies.
At the end of each program Bill likes to meet the audience and autograph his award-winning Radio WOOF recordings. These amazing CDs give everyone a chance to take home the good feelings and great music that are always part of a Bill Wellington family concert.
Contact Bill to book a Radio WOOF family concert.